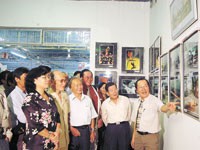 Many people visit the exhibition (Photo: An Dung)
On the occasion of the 55th anniversary of the Nhan Dan Newspaper's Foundation (1951-2006), the Nhan Dan Newspaper has cooperated with Viet Nam's Association of Photographers in holding the "Viet Nam's Soul" Photograph Exhibition with pictures taken by the photo-reporter Tran Thang.
The exhibition shows about a hundred photos that Tran Thang has taken and collected over thirty years throughout the country. His collection is of two categories: press photos and art photos, many of which have been awarded.
Tran Thang has been a veteran reporter for the Nhan Dan Newspaper since 1975. He always keeps close watch of social events in order to offer news readers many highly topical photos. He also loves viewing life and society with the eye of arts. That is why he has many artistic pictures. His works are not only beautiful but also reflect the Vietnamese spirit and soul. His collection is now on exhibition until March 5, 2006.