Viet Pride, an annual event that focuses on celebrating the freedom of love and personal expression, regardless of sexual orientation and gender identity, will take place in 36 cities and provinces across Vietnam from now to August 21.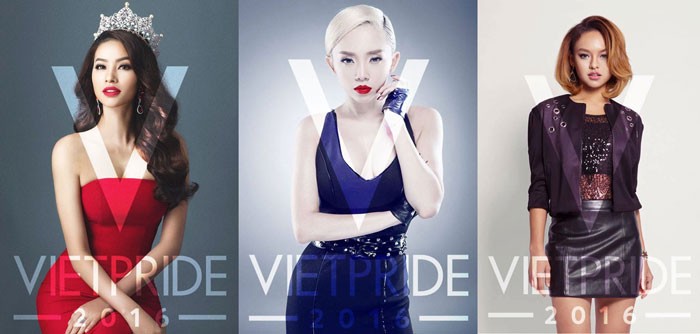 Miss Pham Huong, singer Toc Tien and model Mai Ngo confirm to join the event (Photo: SGGP)
The event received support of celebrities including singer Toc Tien, Miss Universal Vietnam Pham Huong, model Mai Ngo, singer Idol Trung Quan. It is one of the most waited annual celebration of the lesbian, gay, bisexual, and transgender (LGBT) community in 36 cities and provinces and its allies in the country.
Goethe Institute will accompany the annual event with expectation to offer an exciting program comprising film screenings, discussion sessions regarding various issues faced by the lesbian, gay, bisexual, and transgender (LGBT) community, and exchanges with the Parents, Families, & Friends of Lesbians and Gays (PFLAG).
This is the fifth event organized by LGBT community in order to to end prejudice, discrimination, shame and invisibility on the grounds of sexual orientation and gender identity as well as introduce good examples of lesbians, gays, bisexuals and transgender people in contribution to the society.
Like last year, the highlight of the event this year is Viet Pride bicycle rally which will take place on August 21. Participants publicly showed their real gender, equality in the relation or their support for LGBT community.
Viet Pride 2016 seems to be a promising event with Viet Pride Scholarship and the Work with Pride campaign for equality in the workplace, showing films German My friend from Faro, Peruvian Swimming against the Current, Canadian Laurence Anyway, Vietnamese Bi, Don't Afraid and Plan B introduced by Canada and Argentina Embassies.
Along with these activities, the event has training about LGBT in social work.
Viet Pride is a pride of the LGBT community in Vietnam with the support of families, friends and relatives. In 2012 Viet Pride was just organized in Hanoi, yet in 2013 it took place in 11 cities and provinces, in 2014 the event was held in over 18  cities and province and now it will be organized in 37 cities and provinces.