An art exhibition showcasing works of Vietnamese painter, Nguyen Thanh Binh opened in Tokyo on April 22 and is dedicated to raise money for Japanese victims of the earthquake and tsunami occurring on March 11.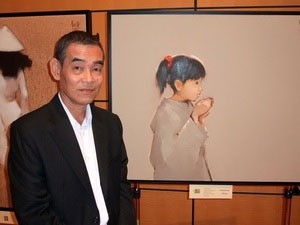 Painter Nguyen Thanh Binh at the exhibition
The exhibition, called "A Celebration of Life and Love", is displaying 38 oil and canvas paintings focusing on four main topics including Women in Ao dai, Mother and child, Ballerina and Nude, which embody the quietness and pureness through the beauty of women.
At the event, the painter said he drives much of his inspiration for the paintings from Japanese Haiku poetry, especially poems of Matsuo Basho. He also expressed his admiration for Japanese spirit and culture and said he hoped the exhibition will help contribute to support Japanese citizens overcome their most difficult moments.
Speaking at the opening ceremony, Vietnamese Ambassador to Japan, Nguyen Phu Binh thanked Toriizaka Art gallery for introducing Vietnamese paintings to Japanese and international friends. He took the chance to express his admiration for Japanese people's bravery and strong spirit and said he believed the country's people will soon overcome the current perilous situation.
He added Vietnamese government and people are always grateful to the Japanese government and people for their support over the past years and will do their best to join hands with Japan in easing difficulties.
At the exhibition, three paintings including "Hope", "the Conductor" and "Ballerina" were auctioned and sold for a total of 1.6 million Japanese yen (19,200 USD). The money will be sent to earthquake and tsunami victims together with 20 percent out of all the proceedings from selling Binh's other paintings, said the owner of Toriizaka Art, Karen Thomas.