Vietnam and Denmark on November 2 signed a memorandum of understanding on cultural cooperation during the 2009-2014 period as part of activities within the official visit to Vietnam by Danish Queen Margrethe II.
The MoU will be a foundation for both countries to increase art and cultural cooperation in the period, including exchanges between concerned agencies and individuals.
Signatories to the MoU were Vietnam's Minister of Culture, Sports and Tourism, Hoang Tuan Anh, and his Danish counterpart, Carina Christensen.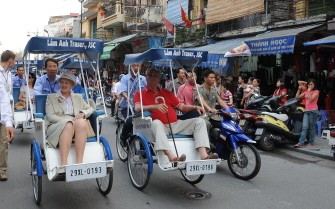 Visiting Danish Queen Margrethe (L) and Danish Prince Consort Henrik tour the ancient quarter of Hanoi by cyclo on November 1, 2009 (AFP photo)
Speaking at the signing ceremony, Minister Hoang Tuan Anh said in recent years, Vietnam has had an opportunity to learn from and hold exchanges with Denmark in the field of culture thanks to cultural support funds and projects financed by the Danish government.
At present, Denmark is funding seven projects in Vietnam which focus on facilitating dialogues between cultural managers and policy makers, promoting literature for children and improving management in the performing arts
Minister Hoang Tuan Anh requested that Denmark increase assistance to exchange activities aimed at promoting Vietnam's image and culture in Denmark so as to promote mutual understanding with the Danish people.
He also called for Denmark to vote for Ha Long Bay as a world nature wonder and for Thang Long imperial citadel to become a world cultural heritage site.
The Danish embassy has worked with the Vietnam Fine Arts University, the Tuoi Tre theatre and concerned agencies under the Ministry of Culture, Sports and Tourism to organize various cultural activities throughout the ten-day visit of the Danish Queen.
Prominent among the activities are a street art festival, a Vietnam-Denmark rock concert and an exhibition of a Danish-funded emergency room.
As part of the activities to welcome the Queen's visit, the Hanoi Writers' Society, the Kim Dong publishing house and the Danish Writers' Society on November 2 held an awards ceremony for Vietnamese children's authors in 2008-2009.
At the ceremony, the organizing committee launched a writing competition for children in 2009-2010 period with the theme of "Dialogue with the nature" and kicked off a picture exhibition by Vietnamese and Danish painters.