A Vietnam Film Festival was officially closed in the French coastal city of Saint Malo on July 6.
The festival introduced 15 Vietnamese famous films to French audiences, including the genres of movies, documentary film and cartoon.
With the final result, the film Tam hon me (Mother's Soul) of director Nhue Giang won the best Vietnamese film awards.
Truong Minh Quoc Thai and Dinh Toan with the film Khat vong Thang Long (Thang Long aspiration) won awards for the best main actors. Meanwhile, two best main actresses awards belonged to Hong Anh with the film Trang noi day gieng (The Moon at the Bottom of the Well) and Van Trang with the film Bi mat tham do (Scandal of red carpet) .
The film Lua Phat (Buddha's Fire) was received the awards, voted by members of jury.
In the category of documentary film, the film Chuyen Lang Then (The Story of Then Village) excellently won the first prize.
The 2014 Vietnam Film Festival is a part of activities marking the Vietnam Year in France. The members of jury included French talent directors and artists such as French famous sculptor Richard Orlinski and director Régis Wargnier, who won Oscar in 1992.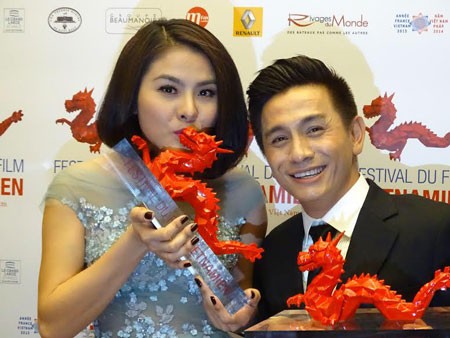 Two artists Van Trang (L) and Dinh Toan win the best main actor and actress awards in the film festival. (Photo:SGGP)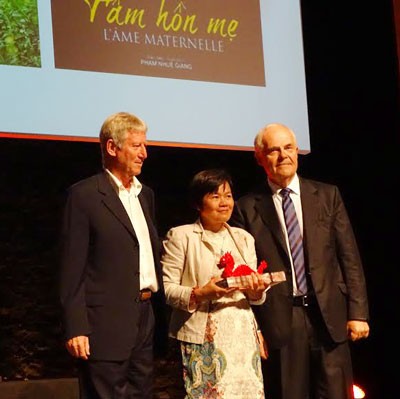 Director Nhue Giang (C) win the best Vietnamese film awards. (Photo:SGGP)