The annual Vietnam International Fashion Fair 2010 (VIFF 2010) promoting local garment and textile companies to domestic and foreign partners will take place at the Ho Chi Minh City International Exhibition and Convention Center from July 3 to 9.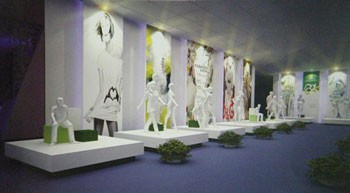 Vietnam International Fashion Fair 2010 will take place at HCMC Interntional Exhibition and Convention Center from July 3 to 9. 
The cotton tree, which has been regarded as a main material in clothing production for hundreds of years, has been chosen as the subject for the 8th annual event's theme of "Green environment."
The week-long fair also aims to present images of the organizers, which include the Vietnam Textile and Garment Group (Vinatex), the Textile and Apparel Association (Vitas) and the Leather and Footwear Association (Lefaso).

The fair is a chance for local garment and textile firms to advertise the quality of their trademarks to local consumers and foreign partners. It also highlights the export potential of Vietnam's garment and textile industry to world leaders in the garment and textile trade.

150 companies with 350 booths including leading garment makers like Viet Tien, Viet Thang, Phuong Dong, Phong Phu and Nha Be will join the event and will exhibit their high-quality products at nightly fashion shows.
There will be seminars on topics such as 2011 fashion trends, building fashion brands, developing distribution systems in Vietnam and growing cotton.