A cooking show to select the best chef called 'Vietnam Iron Chef 2012' will be aired on VTV3 channel at 11am every Sunday from April 24.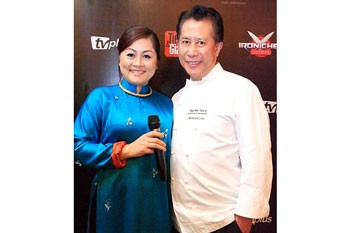 Food experts Tinh Hai (L) and Martin Yan
The 26 episode programme will show contestants display their cooking talent in front of well-known chefs including David Thai, Vice Chairman of Disciples Escoffier in Vietnam, Long Chef from De Nhat hotel and Chinese master chef Yu Zhi Da.
The judges of the show include Duong Huy Khai Khai, food experts Tinh Hai and Martin Yan, while the show will be hosted by award-winning cooking show host Yan Can Cook.
The winner will receive a cash prize of VND20 million and have a chance to take part in international cooking competitions.
Launched in 1992, 'Iron Chef' is a Japanese television cooking show produced by Fuji Television. The series is a stylized cooking demonstration featuring guest chefs challenging one of the show's resident "Iron Chefs" in a timed cooking battle built around a specific theme ingredient.