Vietnam Post in collaboration with the Provincial People's Committee of Phu Tho yesterday announced to issue three post stamp samples and one block under title of "Hung Kings Worship - Intangible Cultural Heritage", making the Hung Kings Temple Festival in 2015.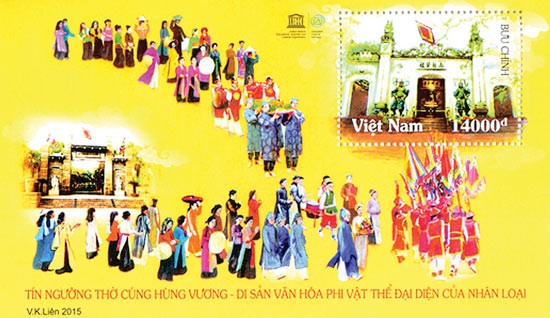 (Photo:SGGP)
The stamp collection consists of three stamp samples and one block, which were designed by artists Vo Luong Nhi and Vu Kim Lien. It was made from glued fabric paper and printed with offset method with its size of 46x 31 mm, and 135x 80 mm for stamp block.
The stamp samples shows Lac Hong grandchildren, the elders and Vietnam ethnic groups of people burning  incense to Hung Kings; image of Chung cake (square rice cake) and Day cake (round rice cake).
The stamp block shows delegations of the Vietnamese people celebrating Hung King memory anniversary at Thuong Temple and Hung Temple in Ho Chi Minh City and Vietnam's ethnic groups of people taking part in the Hung Kings memory anniversary.