Students from the Ha Noi Conservatory of Music won four first prizes, one second prize, and two third prizes at the third Jakarta International Music Competition held in Indonesia from August 6 to 16.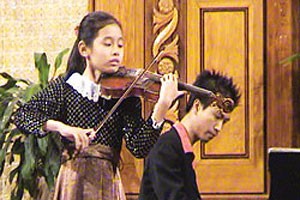 Student Hoang Ho Khanh Van
Do Hoang Chi Linh won the first prize in piano, Hoang Ho Khanh Van in violin for contestants under 13.
Nguyen Thien Minh won the 14--17 violin competition while Tran Quang Duy took first prize in the over-18 category.
The second and third prizes in violin for children between 14 and 17 were won by Nguyen Linh Uyen and Bui Cam Ly. Nguyen Luong Minh took the third prize in the under-13piano category.

Prof, Tran Thu Ha, head of the Vietnamese delegation, and People's Teacher Ngo Van Thanh, director of the Hanoi Conservatory of Music, were members of the jury.

The Jakarta International Music Competition is organized every two years for students from Southeast Asia and China, Japan, and Korea.