The Department of Performing Arts under the Ministry of Culture, Sports and Tourism has sent a proposal to the Ministry stating that Vietnam should opt out of hosting the Miss World 2010 pageant.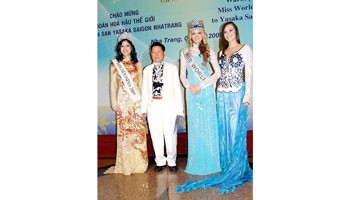 Mr.Hoang Kieu and beauties of Miss World contests join in a charity work in Vietnam (photo: vnexpress)
Deputy Head of the Performing Arts Department Vuong Duy Bien made the announcement on March 16.
The organization of this year's Miss World pageant has encountered a string of problems related to the event's sponsorship and location.

In September 2009, the Government agreed to allow Khanh Hoa Province's Nha Trang City to host Miss World 2010 with funding of US$10 million from the US-based Rare Antibody Antigen Supply, Inc. (RAAS).

However, in late December, RAAS petitioned the Government to move the contest to the Mekong Delta province of Tien Giang's Thoi Son Island in My Tho City as it would cost less to host the event there.

Then in January, RASS announced it was withdrawing completely as a sponsor of the contest.
Khanh Hoa Province sent a dispatch to the Government in February saying it did not want to host the event because the province was having difficulty finding new sponsors.

To date, the website of the Miss World organization does not have any information about the withdrawal of RAAS, and continues to advertise Vietnam as host of the pageant from October 3 to November 6.