Prime Minister Nguyen Tan Dung has ordered the Minister of Culture, Sports and Tourism to sign the dossiers of Vietnamese cultural heritages to be submitted to UNESCO for the Intangible Cultural Heritage Representation of Humanity recognition by 2015.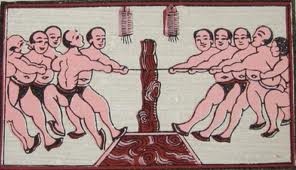 Vietnamese traditional 'Keo Co' (Tug of War) folk game
The recognitions are Dao Mau, a Vietnamese religion focused on Mother Goddess, and the traditional 'Keo Co' (Tug of War) folk game.
According to the Ministry, the folk game is fits the recognition because it is played in many countries in Asia and the Pacific.
'Keo Co' is an ancient folk game of Vietnamese ethnic minority groups such as Kinh, Thai, Tay, Nung, Giay and played by generations in the country.
The Prime Minister asked the ministry to cooperate with relevant departments, Korea, and countries in the region to nominate the folk game.