Vietnam Television marked the 41st anniversary of its first TV broadcast on 7 September 1970, with the Prime Minister inaugurating the first phase of its program production center in Hanoi on September 7.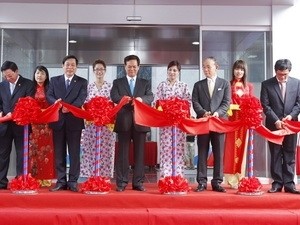 Prime Minister Nguyen Tan Dung (C), VIP guests and VTV executives cut the inauguartion band to launch the program production center. (Photo: Vietnamplus)
Construction of the program production center began in 2006 at a total cost of US$385 million, using ODA capital from Japan. The 28-storey building will have 18 studios and multiple technical centers.
Prime Minister Nguyen Tan Dung said at the inaugural ceremony that more technical infrastructure is now necessary with the rapid inflow of information in today's world.
The program production center is a step towards modernization by Vietnam Television into becoming a big media group in the region and the world.