Photographs capturing the bravery of Vietnamese soldiers during the war are on display in the French southern city of Perpignan, as part of the 26 th annual Visa Pour L'Image, a photojournalism festival.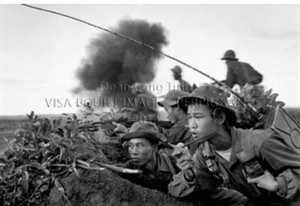 A photo by Doan Cong Tinh (Source: VNA)
Eight pictures taken between 1966 and 1973 by war photojournalists Doan Cong Tinh, Chu Chi Thanh, Hua Kiem and Mai Nam are featured at the exhibition.
On the occasion, French photojournalist Patrick Chauvel presented his book "Photojournalists in northern Vietnam", featuring 140 snapshots by Vietnamese counterparts, such as Luong Nghia Dung, Minh Dao, Dau Ngoc Dan, Vu Ba and Mai Nam.
The publication also briefly introduces the Vietnam News Agency (VNA), the government's official mouthpiece which had more than 260 reporters and photojournalists falling down on battlefield in the war.
This year's festival includes 26 exhibitions displayed around the city and showcases the best photographs of war, nature, environment and religion, amongst others.
Photographs taken of the conflicts in Ukraine, Gaza, Syria and Iraq have also been of public interest.