Model Nguyen Ngoc Lan Huong was named the fourth runner-up in the Miss Model of The World 2009 beauty contest held in China from November 9-29.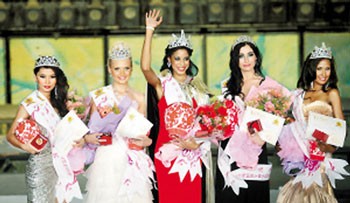 Lan Huong (1st, L) at the enthronement of the 2009 Miss Model of The World
Huong also won two other titles including "Miss Model of Best in Evening Gown" and "Top 10 Media Poll".
The model said she was extremely proud and happy to represent her country and thanked everyone for supporting her during the competition.
The top winner of Miss Model of the World 2009 was Emene Nyame of France. The first, second and third runners-up went respectively to Deyra Cimen of Turkey, Iuliia Galichenko of Ukraine, and Edelyn Cedeno Pena from the Dominican Republic.

Related article:
Lan Huong to take part in Miss Model pageant