Soprano Pham Khanh Ngoc of the HCM City Ballet Symphony Orchestra and Opera (HBSO) has won the second prize at the SLO- ASEAN Vocal Competition in Singapore.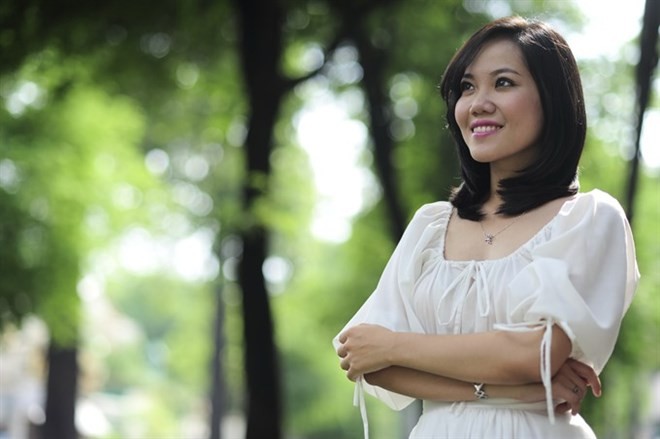 Soprano Pham Khanh Ngoc. (Source: HBSOphotos)
Ngoc performed Bel raggio lusinghier, a popular aria written by Italian composer Gioachino Rossini, at the final round for professional singers on October 2.
Her performance impressed the jury and audience at the concert hall of SOTA School of The Arts. She competed with six finalists from Singapore, Malaysia and Indonesia.
The first prize was presented to her main competitor, Chong Ying Zing from Malaysia, who has 10 years of working for leading orchestras and theatres in Hong Kong, including the Hong Kong Repertory Theatre.
The third prize was shared by Alvin Tan and Jade Tan of Singapore.
"All of the finalists are talented and professional during the contest. I have worked very hard to become an opera singer. I wanted to deliver my prize to my teachers and my fans in my homeland," said Ngoc, a graduate of the HCM City Music Conservatory.
Organised by the Singapore Lyric Opera, the SLO-ASEAN Vocal Competition attracted 60 singers from seven ASEAN countries (which did not include Cambodia, Laos and Myanmar).
The event aimed to find and support opera singers in the region to develop their professional career. The contestants spent selective and semi-final rounds before attending the final round in Singapore.
Ngoc began singing opera after winning second prize at the National Television Singing Contest in 2013.
She has worked for the Military Zone 7 Arts Troupe, and is now a lecturer for the HCM City Music Conservatory.
Ngoc is now rehearsing for her leading role in La Vie Parisienne, an opera by French composer Jacques Offenbach, which will be staged by the HBSO at the HCM City Opera House next month.-VNA