Nearly 60 army officers, artists, scientists and friends called on General Vo Nguyen Giap yesterday in Hanoi to wish him on his coming 100th birthday on August 25.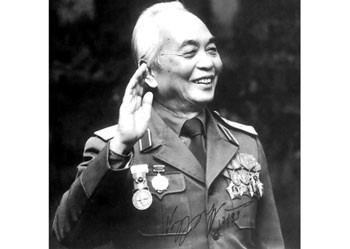 General Vo Nguyen Giap
General Giap has been an eminent Commander of the Vietnamese Peoples' Army in the past, a highly acclaimed military strategist and well-known for his tactics throughout the world.

"The entire country is today proud of him and wishes him good health and a happy long life," said professor Phan Huy Le.
"General Vo Nguyen Giap is a rare leader who has a great mind, profound thinking and a deep patriotic outlook for his country," said Lt. Gen Le Huu Duc who worked under General Giap for many years.
Colonel Nguyen Van Nhua, General Giap's doctor says that the General is still very healthy, full of enthusiasm and is looking forward to his coming birthday.
In addition, a painting exhibition by sand artist Y Lan opened yesterday in Ho Chi Minh City to honor General Vo Nguyen Giap on his centenary year.
The exhibition entitled, "Hundred years of a Hero'" features about 100 sand paintings portraying the life and revolutionary activities of Vietnam's great national hero.
The current exhibition in Ho Chi Minh City Exhibition House on 92 Le Thanh Ton Street in District 1 will run until August 24 and later move to Hanoi from August 18-24.
Related article:
Picture book about General Vo Nguyen Giap published