Vietnam Youth Theater has officially become part of the Asian Stage Union this month.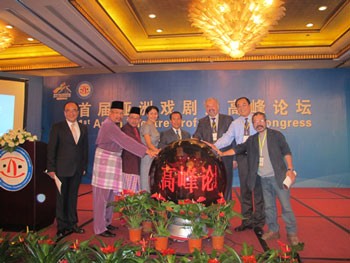 Vietnamese artist Le Hung (R) at the launch of Asian Stage Union in China (file photo)
46 representatives from major theaters in China, Japan, Korea, Vietnam, Philippines, Bangladesh, Cambodia, Malaysia, Brunei, Kazakhstan, Israel, territory Taiwan and Thailand attended the first congress from October 10-14 in Chongqing in China, to establish the Asian Stage Union.
People's artist Le Hung, director of the Vietnamese Drama Theater and Mr. Truong Nhuan, deputy director of the Youth Theater were elected as members of the Executive Board of the Asian Stage Union for its first term.
Director Le Hung was also selected as head of the Exchange Subcommittee that stages plays.
Director of the Chinese National Drama Theatre was elected as Chairman of Asian Stage Union.
The union aims to cooperate, promote and strengthen mutual knowledge, exchange of experiences between Asian artists, and meet the demands of art audiences in the region.