Dustin Nguyen, a Vietnamese American actor was awarded the Golden Lotus for best actor at the 16th Vietnam Film Festival for his role in 'The Legend is Alive'.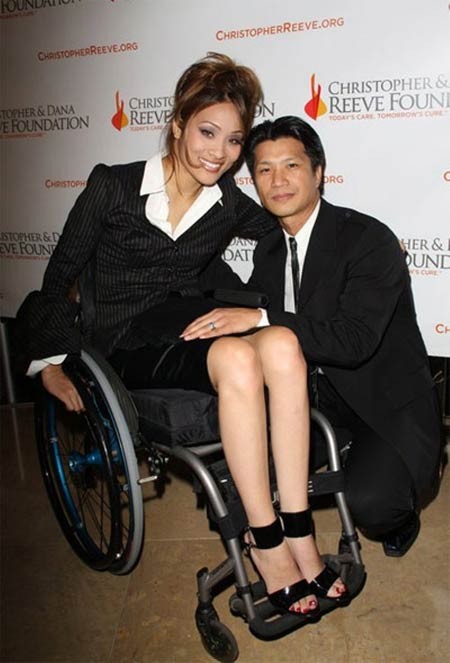 Dustin Nguyen and wife, former actress &model Angela Rockwood-Nguyen.
It came as no surprise to anyone as his name is no longer unfamiliar with the Vietnamese audience, particularly after watching his films Dong Mau Anh Hung (the Rebel), De Mai Tinh (Fool for Love) and Canh Dong Bat Tan (Endless Field).
In the film 'The Legend is Alive', Dustin Nguyen played the part of Long, a Vietnamese man who has mental and physical disabilities due to exposure to Agent Orange. His mother tells him that his father, who he has never met, was the famous Bruce Lee. She lies to him in an attempt to give him courage and to inspire him to learn martial arts to protect himself. When his mother dies, he is left to fend for himself and he prepares to take her ashes to America, where Bruce Lee is buried, unaware of how far America actually was.
The role was played brilliantly by him and helped him win the coveted Golden Lotus for best actor.
Dustin Nguyen or Nguyen Xuan Tri's mother My Le was an actress and dancer and his father Xuan Phat an actor, writer and producer in South Vietnam.
Nguyen's family immigrated to America shortly after the fall of Saigon and were the first Vietnamese family to settle in a small Midwestern suburb outside St. Louis. After Nguyen graduated from high school, he moved to Southern California and attended Orange Coast College and majored in communications.
Nguyen started acting in small roles in TV shows such as 'Magnum P.I.,' before landing a regular role on the hit show '21 Jump Street,' which also helped launch the career of Johnny Depp. After appearing in films in the US and in Little Fish with Cate Blanchett, which was filmed in Australia, Nguyen returned to the country of his birth to help revitalize the Vietnamese film industry after spending 25 years of his career in Hollywood.
Returning to Vietnam, he had the chance to enjoy life in his homeland. He has acted in films for over five years in Vietnam. He has visited rural areas in the north, Binh Dinh beaches, Hoi An ancient city, Hue and Mekong Delta region.
Nguyen and his wife, former actress &model Angela Rockwood-Nguyen are actively involved in The Christopher and Dana Reeve Paralysis Resource Center ever since a car accident on September 3, 2001 left Rockwood-Nguyen a quadriplegic.