Eighteen designers across the country have jointly launched a party of colours and styles through "the world in Vietnamese Ao dai" with models from Hanoi, Hue and Ho Chi Minh City on the catwalk.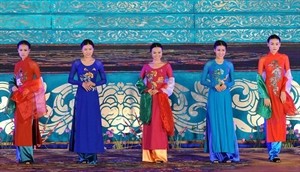 (Photo:VNA)
Each of the 600 latest designs of Ao dai featured not only the perpetual elegance of the Vietnamese traditional long dress but also the glamour and distinctive characteristics of many countries over the world.
Designer Thuong Huyen brought to the April 14 show her special collection which carries Japanese-styled patterns, while Lan Huong's collection introduced the Netherlands' tulips through hand-embroidered features.
China' beauty was highlighted in designer Duc Hai's collection. Meanwhile Chu La came up with his host Spain country's images through designs made by Vietnamese silk.
As part of the on-going Hue Festival 2014, the Ao dai show contributed to honouring both traditional beauties and contemporary styles. A similar show will also held on April 17.
On these days, the UNESCO-recognised World Cultural Heritage city of Hue in the central province of Thua Thien-Hue is in a festive atmosphere as numerous activities are being held as part of the Hue Festival.
A street festival themed "Heritage and Cultural Colours" is taking place every day along Dong Da street beginning April 13 until the end of the Hue Festival on April 20.
Along with musical shows, an exhibition of 48 royal artefacts is open to visitors, showing porcelain pieces and daily utensils used by kings of the Nguyen Dynasty.
The Hue Festival is held every two years to honour unique cultural and historical values of Hue in particular and Vietnam and other nations in general through art performances.
The eighth event of its kind, the festival this year took the theme of "Cultural Heritage with Integration and Development", and is part of the East Asian-Latin American cultural exchange forum held by Vietnam's Ministry of Foreign Affairs.