Yesterday, a conference entitled "Do Vietnamese love reading books?" took place at the fifth annual HCMC Book Fair 2008 to share public opinions on the passion for reading and the growing demand for books and cultural products.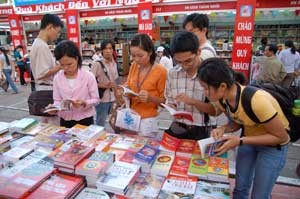 Students chosses choose books at the HCM City Book Fair 2008 (Photo: Tuong Van/ SGGP)
The conference, presented by the website www.sachhay.com attracted a considerable number of people from all walks of life including publishers, researchers, entrepreneurs, students and workers who came to express their opinions about the country's reading culture.
It was agreed by all participants that Vietnamese have a long history of showcasing their appreciation for books and this tradition has never died out. However, books of high artistic and educational value are appearing less and less on the growing book market due to many poor choices made by the publishers and their readers.
In addition, most promotional activities to introduce good books to the public are still affected by business and financial benefits rather than the books content. This circumstance is creating an environment where readers are getting a misleading perception about a books value.
The topic will continue to be discussed on the website www.sachhay.com, reported the Organisation Board.
Also that day, the renowned Vietnamese author Nguyen Quang Sang held a meeting with visitors at the fair to introduce his most recent work "Nha van ve lang" and talk about his memories with other famous authors and song writers like Trinh Cong Son, Bui Giang and Son Nam.