The French Ministry of Culture and Communication has awarded the rank of Knight in the Order of Arts and Literatures to artist Tran Kich for his contributions to the conservation and circulation of Hue royal music.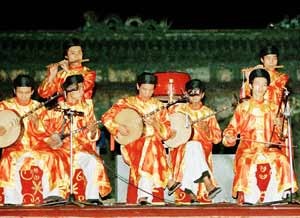 A performance of Hue royal music in Hue City
The Hue artist was born in 1921 in a family with an established tradition of playing many traditional musical instruments. During his life, the 87-year-old man has taught many students Hue royal music, and performed this music in many countries.
Hue royal music, or nha nhac, was recognized by UNESCO as a Masterpiece of Oral and Intangible Heritage of Humanity in 2003. Nha nhac was originally found in the courts of royalty and reserved for annual ceremonies and special events such as coronations, funerals, and official receptions.
Rich in spiritual content, nha nhac not only provides a means of communicating with and paying tribute to the gods and kings, but also serves as a vehicle for transmitting aspects of Vietnamese philosophy and cosmogony.