Nguyen Hong Nhung, Nguyen Ngoc Oanh, and Nguyen Phuong Mai will travel to China for the 2009 Asian Supermodel Contest to be held from July 16 to 25.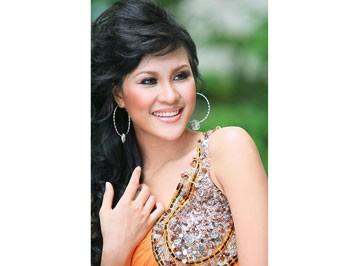 Model Nguyen Phuong Mai
Ms.Nhung, 22, who finished in the top ten at the 2008 Miss Vietnam Pageant, is a student of the Foreign Trade University in Ha Noi.

Ms.Oanh, 22, from the northern province of Thai Nguyen studies at the Ha Noi Tourism College.

Ms. Mai, 20, a student at the International University Vietnam in Hanoi, has also entered movies with a role in the film "13 death-penalty prisoners" directed by Luu Trong Ninh.

The three will take clothing designed by fashion designers Hoang Hai, Ngan An, and Tien Loi, postcards of Vietnamese landscapes, and o mai (tamarind or apricot mixed marinated in salt, sugar, and ginger) to give the other contestants at the pageant.
In the talent competition, Ms. Oanh will sing in English, while the other two will perform a Cham ethnic and modern dances

All of them are contracted to the Venus Model Agency.

To prepare for the contest, they underwent a three-month course in performing, make up, and interview organized by Venus.

The Vietnamese models will take on more than 40 others from India, Malaysia, Indonesia, Thailand, Philippines, Singapore, South Korea, Japan, and China in the traditional costume, gown, and swimsuit categories.