Viet Nam's Cao Thuy Duong has won the International Image Award in an online poll at the Miss International beauty pageant that reaches its climax in Macau tomorrow.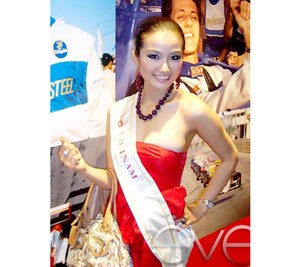 Cao Thuy Duong at the Miss International beauty pageant 2008
According to the geocities website, Miss Viet Nam garnered 26,776 votes, Miss Sri Lanka got 19,993, and Miss Indonesia 19892.

Ms. Duong is also among the top 20 contestants who will vie for the Miss International crown tomorrow.

The 21-year-old is a model with the Elite Model Beauty Viet Nam Company and won the "Miss Talent" title at last year's Miss Viet Nam Sport pageant.

Miss International is one of the five largest beauty pageants in the world. Its winners will be Ambassadors of Peace and Beauty who will work for world peace.