A club named "Sach Viet" (Viet Books) made its debut on May 15 in Ha Noi with the presence of many writers, critics, journalists and students. The accompanied website www.sachviet.com.vn was also introduced at the meeting.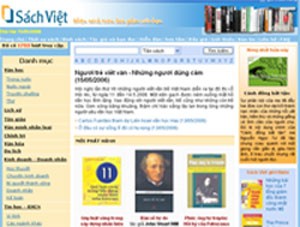 "Sach Viet" website

The club will be a meeting place for readers, who want to seek, collect and introduce precious works of Viet Nam and the world, to gather and exchange information on evaluation criteria of the books. They can also share views on how to protect and display precious books with international standards.
The launch of this website, along with the program titled "Each book a day" on VTV1 channel of the Vietnamese Television, is an outstanding event of the publishing sector.
The website is not only a trustworthy address for book trade, but also a forum of book lovers and a connection between readers and publishers.