The Vietnamese display booth at the 2013 Frankfurt International Book Fair has attracted a lot of visitors.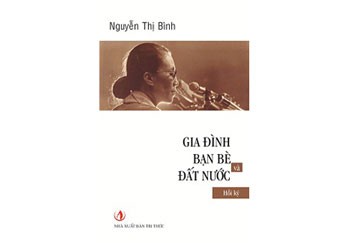 Slovenian Modrijan Publishing House asks to purchase copyright for the book of memoirs of former Vice President Nguyen Thi Binh (Photo:SGGP)
Slovenian Modrijan Publishing House, China National Publications Import and Export Corp, partners from Malaysia, Canada, France and Colombia have offered cooperation and purchase of copyrights from local publishers.
Vietnamese participants include the Ho Chi Minh City Book Distribution Joint Stock Company-Fahasa, Phuong Nam Cultural Corp., Dai Truong Phat Company, Tre Publishing House, Dong A Book Company, Ho Chi Minh City General Publishing House, First News, Thong Nhat Print Company, Viet Book Company, Phuong Dong Company and Thai Thinh Intellectual Company.
Publishers have presented to international readers more than 1,000 books and e-books on various subjects introducing Vietnamese tradition, cultural, land and people.
Exchanges and forums on Vietnamese books and cooperation will be held during the book fair.
2013 Frankfurt International Book Fair was held from October 9-13. The event is one of the world's largest trade fairs for books, attracting a large number of publishers from around the globe.