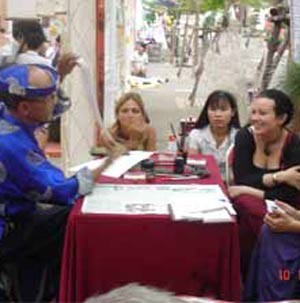 Foreigners are waiting for calligraphic paintings
(Photo: Van Hanh)
An old man concentrating on calligraphic painting reminded me of the short story penned by Nguyen Tuan. In the story, a jailer shows respect to a prisoner who is also a great calligrapher. The night before his execution, the prisoner brushed his final work as a present to the art-loving jailer. It is a moving story illustrating the beauty of people in every harsh condition. But that is another story…
Among many colourful booths in the Weekend Bazaar in the park was Le My Ha's calligraphy stand. His booth decorated with many calligraphic paintings was contrasted with the surroundings and attracted curious eyes of foreigners.
Amid noise and sound in 23/9 Park, an old man with "Ao dai" calmly strokes a brush dipped in black ink along a piece of red paper. He is "giving word" to people who patiently wait a few feet from his tiny desk.
It was so difficult to ask him for a little time as he was very busy with his work. However, he was very pleased to have a small talk with us.
SGGP-Reporter: Could you say something about yourself?
Mr. Ha: I was born in 1944 in Hue when the August Revolution was on the peak. Viet Nam at that time was preparing for revolutionary movement. In 1945, Uncle Ho declared independence in Ba Dinh Square, officially establishing Democratic Republic of Vietnam. I took part in the struggling movement till 1975.
At that time I was senior lieutenant-colonel, Division commander. Since 1976, I worked for Ha Noi Journalism Association. In 1979, I worked freelance for VTV3 Channel in some game shows like "Music Lovers' Club", "Ha Noi Calligraphy Club" in Quoc Tu Giam. I was retired in 1999.
In 2000 I came to HCM City. Since then I have run 24 Calligraphy Training Courses.

SGGP-Reporter: How about your work here?

Mr. Ha: I am a Director of 144-member Calligraphy Art Club, located in district 8. All the members are journalists, writers, artists…But me, I would love to draw calligraphic paintings, so at the weekend I am here to draw calligraphy to all.
SGGP-Reporter: In recent years, calligraphic paintings in the living room of many houses have become more popular. What do you think about that?
Mr. Ha: Calligraphy is not only a practical technique for writing, but also a unique Oriental art of expression. As a branch of learning, it is rich in content, including the evolution of writing styles, development and rules of technique.
In the past, in preparation for the Lunar New Year, people would go to the village teacher, or an elder scholar, to ask for calligraphy in their home. Such hangings would sometimes be used for worship as well as decoration.
The characters may be an extract from an ancient poem, a pair of dual sentences, a vertical slogan, or just one large single character on a piece of pink paper.
In recent years, a new trend has developed within the reincarnation of the old ways of Vietnamese calligraphy. Latin characters have replaced the art of writing Chinese characters.
Calligraphy may not be an avenue for an artist to become famous, but it carries sacred meaning. It is the spiritual value of calligraphy that is cherished, respected and even worshiped in Vietnamese culture
SGGP-Reporter: People often hang these artworks in the wall. So what is the message in these calligraphic paintings?

Mr Ha: Nowadays more and more Vietnamese and non-Vietnamese want to have calligraphic painting hung in their home. Calligraphy is an art of handwriting. Beside the major techniques and aesthetics required, calligraphy arouses deep feelings.

Calligraphy will usually express the hope of every Vietnamese person for a better life, with the most popular single-character being Happiness. Many people also seek the characters for Heart, or Patience, as they consider patience and kindness to be guiding forces in their lives…

In spring, one is believed to have much leisure time to think over calligraphic paintings hung in his/her home. They remind him/her of ups and downs in the past year and hope for the good in the New Year.

Moreover, if you get stressed at work and in the daily life, become hot-tempered or suffer from miseries, you are advised to come to the meditation tea shop where you can find a place for you own, and sip some tea while gazing at calligraphic painting hung around the room. This should have been a time to look deep into your heart and discover the good things inside you.

SGGP-Reporter: You were a soldier in the past. So what do you think when you draw calligraphic painting to foreigners?

Mr. Ha: I am so happy and really proud of Vietnamese calligraphy. Through these paintings, I have chances to introduce to all people the beauty and hidden meaning in Vietnamese artworks.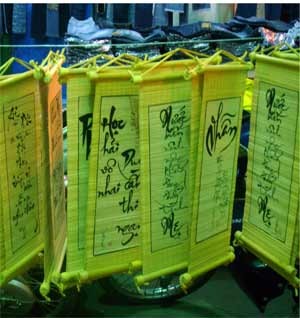 (Photo: Van Hanh)
Our talk was interrupted by his work. A lot of people gathered around his tiny desk, sticking their eyes to his hand performing on the paper. The high quality paper durable for over 150 years as he said must be anti worm-eaten papers and used with Chinese ink. All the clients showed their respect and gratefulness to this old man.

It was raining but amid the noise and sound in 23/9 Park, an old man with "Ao dai" still calmly stroke a brush dipped in black ink along a piece of red paper. When the painting was finished, I smiled and did not forget to explain the message in each artwork.