Vietnamese candidates captured many prizes at the third Hanoi International Piano Competition which was held in Hanoi.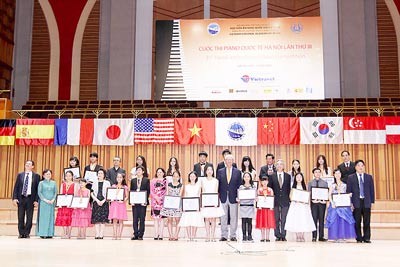 Winners at the prize-giving ceremony (photo : SGGP)
Organized by Vietnam National Academy of Music and the Chopin Association in Vietnam, the remarkable musical event attracted 55 young talents of classical music from 9 nations and territories; many of them had won many prizes from international musical competitions, accordingly the jury board faced difficulties in their decision.
In the category A, youngest candidate Nguyen Lan Anh from the Academy of Music in Ho Chi Minh City and Singaporean Alyssa Kok performed excellently and captured the first prize. Lan Anh also received the prize for excellent candidate of the category A of internationally well-known pianist Dang Thai Son and the prize for excellent candidate who best play classical music in the category A.
In the category B, two Vietnamese young talents Ngo Phuong Vi and Nguyen Dang Quang who won many international music prizes had good performance to triumph the competition. Both won three prizes for the first prize in the category B, and that of Nguyen Thai Son; Nguyen Dang Quang won the prize for the competitor  playing best Concerto music category and Ngo Phuong Vi gained the first prize for competitor playing best classical music in the category B.
This year's jury board comprises well-known artitsts from around the world including Prof. Dr and People's artist Tran Thu Ha from Vietnam; Prof. Hae Won Chang from the Republic of Korea; artist Michel Bourdoncle from France and Prof. Tamas Ungar from the US./.
In the category C, many excellent candidates from Korea including Yeon Min Park and other countries were crowned in the category. Only Vietnamese candidate Vu Hoang Cuong won encouragement prize and was awarded prize by famous pianist Dang Thai Son.
The contestants were categorized aged 10-13, 14-17 and 18-25. Each competitor delivered performances in two individual rounds before playing a concerto with the orchestra in the final round.
Besides the official awards worth VND200 million (US$8,902), the competition also included auxiliary prizes for outstanding performances.