Vietnamese circus artists won the Grand Prix prize and a bronze medal at the International Circus Festival 2011 in the Cuban capital of Havana which closed on Aug. 14.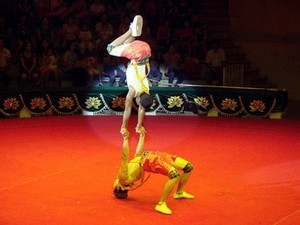 The "Power of the arms" show.
The Grand Prix prize was bagged by brothers Giang Quoc Co and Giang Quoc Nghiep for their performance showing the strength of their arms. The performance also won the audience's popular award.
The victory marked Vietnamese circus artists' impressive return to Cuba after 20 years.
The circus festival was first held in 1981. It has always attracted the participation of a large number of artists from countries which are well-known for circus arts such as Russia , Mongolia and Spain .
This year, the festival drew over 100 artists from 14 countries worldwide.
Vu Hop, head of the Vietnamese delegation, said the festival offered a chance to promote the land and people of Vietnam to international friends.
On the occasion, the Vietnamese Embassy in Cuba organised a get-together to cheer for the victory, during which Vietnamese Ambassador to Cuba Vu Chi Cong highlighted contributions of the circus sector to the country's cultural diplomacy.

Related article:
HCMC Circus Troupe to perform in Cuba