For the first time, Vietnam was honored with a top position at an international female beauty pageant, the Miss International Beauty 2009. The winning contestant was Vu Thi Hoang Diep.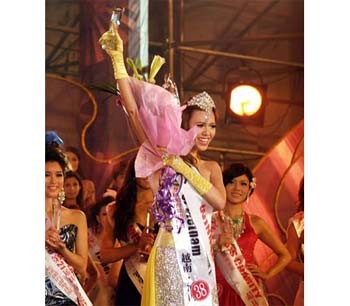 Vu Thi Hoang Diep (with crown) becomes Miss International Beauty 2009. (Photo: Courtesy of Hoang Diep)
Diep received a lot of compliments on the final night on August 1 for her costumes and her body. With her best performance at the final in the city of Daqing, China, Diep won the hearts of the jury and the audience.
Besides the first prize, Diep had earlier received two secondary prizes, including first prize as Miss Talent and third prize as Miss Bikini.
Diep will leave China for Vietnam on August 2.
According to Diep, her success came so surprisingly and was excited to share the good news with her relatives and local fans.
Miss International Beauty Pageant, founded in 1973, aims to symbolize beauty and harmony for different nationalities, bring about friendship across the world and to promote world peace.
Related article:
Vietnamese wins Miss Talent