Firstly more than 80 paintings of over 30 Vietnamese painters are displayed in Palazzo Valenlini, which was often reserved for Italian and world famous painters. The exhibition themed "Dragon and Butterfly" was one of the cultural activities in the "Vietnamese Cultural Month in Italy" in Spring Festival in Roma from June 16 to July 16.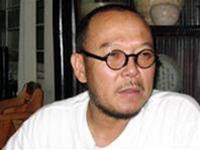 Painter Thanh Chuong
More than 80 paintings from the collections of the Ha Noi National Fine Arts Museum, individuals and galleries are displayed at the exhibition. Among them, there are the collections of two ex-Italian ambassadors to Viet Nam with many paintings of Vietnamese famous painters such as Bui Xuan Phai and Tran Van Can.
Besides the collections of paintings, 16 Vietnamese ethnic minorities' clothes also are displayed. Six Vietnamese painters, Thanh Chuong, Bui Huu Hung, Dinh Quan, Pham An Hai, Dang Phuong Viet and Ngo Ba Hoang, are presented at the opening ceremony of the exhibition.
"It is the largest exhibition so far. Italian people are very surprised and attracted by the exhibition. Vietnamese painters have the honor of having their paintings displayed in Palazzo Valenlini, where world famous painters' exhibitions are usually organized. It shows that Vietnamese fine arts is integrating with the common language of the world's painting. This exhibition is a good chance to introduce the Vietnamese culture to the world during a festival set to kick off this month," painter Thanh Chuong said.
Painter Thanh Chuong also visited Italy's museums and he realized that Vietnamese fine arts is on the right track. It does not get lost and is not inferior at the cathedral of painting. "I even feel more confident and pride of our painting. The "Dragon and Butterfly" exhibition is more successful than we hoped," he added.

The exhibition was the opportunity for Vietnamese painters to assert their abilities. The paintings were chosen for display by Italian fine art experts, including critic Angelo Bucarelli.
"I have been to Italy many times but I have never been so excited. Italian people were really attracted by our culture," Mr Truong Quoc Binh, the director of the Ha Noi National Fine Arts Museum, said.
The "Dragon and Butterfly" exhibition owns its succes to Italian reporter and writer Corrado Rugger and overseas Vietnamese businessman Nguyen Huu Hung, Mr Binh added.
Having been to Viet Nam many times, Rugger came to love the country and was impressed with the its culture. He persuaded Roman Mayor Enrico Gasbarra to invite Viet Nam to the Spring Festival with the programs of painting exhibitions, fashion shows, cuisine, trade and tourism conferences.
Vietnamese Italian Nguyen Huu Hung, who returned to Vietnam in 1995, was granted the Knight title by the Italian government in 2000 for his contribution to strengthening the friendship between Viet Nam and Italy.
The two men started their preparation for the exhibition in 2005.