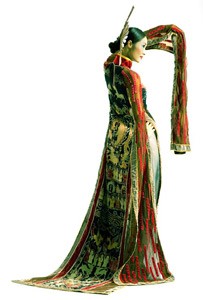 A design by Minh Hamh named "Dragon and Butterfly" on display in the first festival.
Opening ceremonies for a second month-long Vietnamese cultural festival entitled "Dragon and butterfly" will take place in Rome on May 26.
The festival will include photo exhibitions, music and fashion shows, lectures on Viet Nam's socioeconomic situation and others.
The event is an opportunity for Italian people to learn more about the land, natural beauty and daily life of the people of Viet Nam, thereby enhancing mutual understanding, friendship and cooperation between the two countries.

The show was organized for the first time in Rome in June, 2006.