A Vietnamese cultural showcase is scheduled to open at the end of August in the Republic of Korea's (RoK) National Folk Museum in Seoul, to promote the country's many different cultures.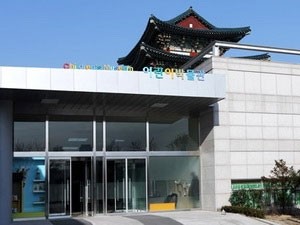 The National Folk Museum of the Republic of Korea in Seoul
The Welcome to Vietnam showcase and another on Mongolian culture (Senbeno Mongolia) are the first two items launched this year in the RoK, where almost 1.2 millions foreigners live.
With this programme, children in the RoK will be able to find out more about the country's range of diverse cultures, which will help to stamp out cultural problems in the country.
Through the showcase, the visitors will have chances to find out about Vietnam's history, its language, environment, cuisine, customs, religions, musical instruments and traditional games by examining the plentiful and vivid documents and artefacts.
At present, there are over 90,000 Vietnamese people living and working in the RoK, the second largest foreign community after China including 35,000 Vietnamese brides married to Korean men.