The Vietnamese Cultural Week 2016 in Cambodia kicked off at the Chaktomuk Hall in Phnom Penh on August 26.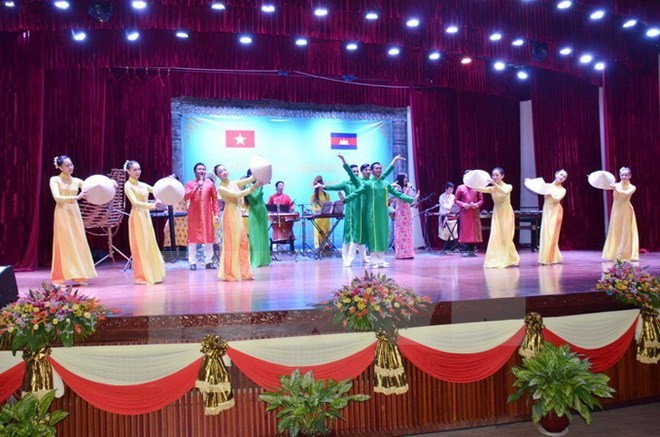 A performance at the opening ceremony (Source: VNA)
Speaking at the opening ceremony, Vietnamese Deputy Minister of Culture, Sports and Tourism Dang Thi Bich Lien said that the Vietnamese Cultural Week is one of the important cultural events to realise the two countries' 2012-2017 cooperation plan in culture and fine arts.
She showed her belief that the event will help Cambodians understand more about the Vietnamese nation and people, thus contributing to lifting the bilateral friendship, neighbourliness and cooperation to a new height on the occasion of the 50 th anniversary of bilateral diplomatic ties in 2017.
Cambodian Minister of Culture and Fine Arts Phoeurng Sackona recalled major milestones in the two countries' cultural cooperation, saying that this is the sixth time the two sides have coordinated in organising the Vietnamese Cultural Week in Cambodia.
The two peoples have gained better understanding of each other through exhibitions and art performances held within the framework of the Vietnamese Cultural Week in Cambodia and the Cambodian Cultural Week in Vietnam as well as the exchange of leader delegations and art troupes, she stated.
She thanked the Vietnamese Ministry of Culture, Sports and Tourism for its support in training and the construction of several cultural works.
The 2016 event is held in Phnom Penh on August 26-27 and will then take place in Siem Reap city on August 28-29.-VNA