September has been a month of cultural activities that has included celebrations of the 64th anniversary of the August Revolution and National Day (September 2), with a clutch of events also being held abroad.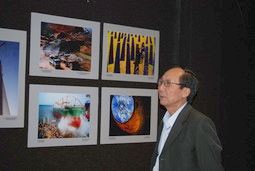 A Visitor enjoys pictures at the photo exhibition titled "Vietnam's Beauty" in Paris.
A photo exhibition titled "Vietnam's Beauty" has already opened at the Vietnamese Cultural Centre in the French capital Paris.

The 80 photos at the event showcase the beauties of life, nature, traditional culture, UNESCO world-heritage landscapes and interesting moments at the workplace.

They were selected from a collection titled "Vietnam country and people" including 1,000 pictures. Most of them have won local and international awards in the last few years.

The highlight are 10 photos titled "Traditional culture of ethnic minority groups in the Central Highlands" which beat entries from more than 50 countries to win the highest honor at the 29th black and white photo contest held by the International Federation of Photographic Art in Slovakia in 2008.

The exhibition, organized by the Department of Fine Arts, Photography and Exhibition of the Ministry of Culture, Sport and Tourism, will run until September 30.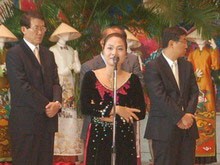 The opening ceremony of Vietnamese cultural week in Seoul is held on September 3.
In Seoul, Republic of Korea, a Vietnamese cultural week titled "Good morning, Vietnam" opened at the National Museum on September 3.
Choe Kwang-shik, director of the museum, said the cultural week would be an opportunity for Koreans to discover the land, people, and traditional cultures of Vietnam and strengthening relations between the two countries.
The week featured a photo exhibition on the land and peoples of Vietnam, three collections of embroidered ao dai by designer Lan Huong and a screening of the films Mua len trau (Buffalo boy), Me Thao-thoi vang bong (Glorious Time in Me Thao Hamlet), Chuyen cua Pao (Pao's story), Rung den (Black forest), and Ba mua (Three seasons).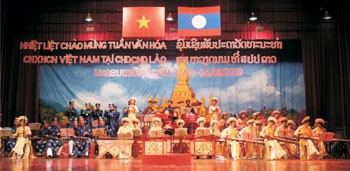 A performance of Vietnamese traditional music during Vietnamese cultural week in Laos.
Another Vietnamese cultural week was organized at the Laos National Cultural Palace in Vientiane on August 31.

Vietnamese Deputy Minister of Culture, Sports and Tran Chien Thang Tourism said the event aims to strengthen the close friendship between the two countries and will introduce to the Lao people traditional music and exhibitions about the land, culture, and people of Vietnam.

Lao audiences were also treated to three documentaries and three feature films, namely Lang dan ong (The village of men), Con lai voi thoi gian (The Remains of Time), Chuyen cua Pao, Rung den, and Khi nang thu ve (When Autumn Sunlight Comes).

The 2009 Hello Vietnam Festival will be organized in Yoyogi Park in Tokyo on September 19-20.
On the occasion, Vietnamese restaurants in Tokyo and surrounding areas will present Vietnamese specialties like pho and nem cuon (spring roll).
There will be also an area for Vietnamese cultural, trade, and tourism enterprises to exhibit their products.
The event will include a musical performance and an ao dai show in which Vietnamese and Japanese artists and members of the Vietnamese Youth and Student Association in Japan will participate.