A delegation of 18 Vietnamese artists arrived in Denmark for performances from June 9 to 11. An open air cultural program entitled, "Viet Nam, past and present," on Monday from 3 p.m. to 7 p.m. at the Nytorv Square, in the centre of Copenhagen, Denmark.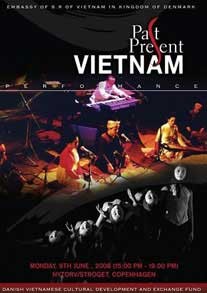 Poster of the performance
The artists including pop star Thanh Lam, musician Quoc Trung and others presented Vietnamese folk music such as cheo (traditional opera), quan ho, (Bac Ninh duets), cai luong (southern traditional music), and xam (folk music) in world music style. Traditional music is harmoniously and smoothly combined with modern music to create an extremely attractive and wonderful art space.
One of the highlights of the performance by the dancing bands "Big Toe" and "Whirling in the Hurricane's Eyes." They also participated in a discussion organized by the Danish Centre for Culture and Development with Denmark's well-known contemporary dancing troupes.
The "Big Toe" and Denmark's break-dance band "To the Beat" will travel to Poland for the ninth edition of the International Break-dance Event, one of the world's leading hip hop dance competitions.
The show is sponsored and organized by the Danish – Vietnamese Cultural Development and Exchange Fund, and Vietnam's Ministry of Foreign Affairs, the Department of Cultural Diplomacy and Unesco.