Folk dances, traditional music and handicrafts are being presented at the 50th Pasar Malam Besar and Tong Tong Festival at the Malieveld Stadium in The Hague, Holland from May 21 to June 1.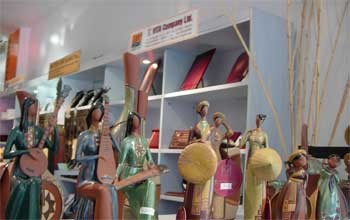 Viet Nam's handicraft products.   (Photo:KK)
Minister of Culture, Sport and Tourism Hoang Tuan Anh led a delegation of 19 artists of the Viet Nam Dance and Music Theater to introduce to the Dutch audiences to the dances and traditional instruments of the hill peoples, including the dan bau (monochord), dan nhi (two-chord fiddle) and klongput. Pottery, silk, hand embroidery, and palm leaf conical hats were also presented.
The fair is a good opportunity present traditional culture and encourage tourism among the Dutch, who will get a better understanding of Viet Nam, its land and its people.
During the fair, Minister Hoang Tuan Anh met his counterpart in charge of European Affairs and representatives from the Dutch Ministry of Education, Culture and Science to discuss measures aimed at boosting bilateral cooperation in culture and the arts.