Pho, bun cha and banh mi, Vietnamese traditional dishes have been chosen as the world's top 100 most delicious foods by the World Records Union (Worldkings).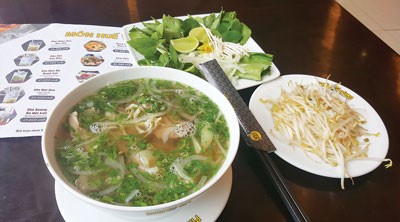 Pho is one of the most popular street-food dishes in Vietnam
Pho was introduced as one of the most popular street-food dishes in Vietnamese cuisine, Vietnamese Pho is represented in more than 20 countries across over the world, such as France, the US, Japan, Canada, Australia, Thailand or wherever Vietnamese people live. It has been voted best Vietnamese dish by international visitors and its ubiquitous scent is incessantly reviving expats' nostalgia. The dish has become a brand of Vietnamese culture and left a deep impression to foreign visitors.
Pho was recognized as Asian records by the Asian Record Organization in 2013.
Worldkings describes Bun cha made from rice noodle, grilled pork and salad including various types of herbs and lettuce; pickled carrots and green papaya; and served with sweet and sour fish sauce. Bun cha is originated from the North.
Meanwhile Banh mi is also one of the most popular street-food dishes in Vietnam. Banh mi has different flavors depending on where the visitors are in Vietnam, according to the Worldkings.
Some other dishes in Southeast Asia on the list include Nasi Goreng, Rendang (Indonesia); Khao Niaw (Laos); Laksa, Satay (Malaysia); Fish Amok, Insects, Nom banh chok: Khmer noodles (Cambodia); Frog Porridge, Chili Crabs (Singapore); and Mango Sticky Rice, Pad Thai, Som Tam (Thailand).