The drama themed 'Cai Lao Hoan Dong' (Rejuvenation) performed by the Vietnam Drama Theater has won the 'Most Favorite' title at the China-ASEAN Theater Festival 2013.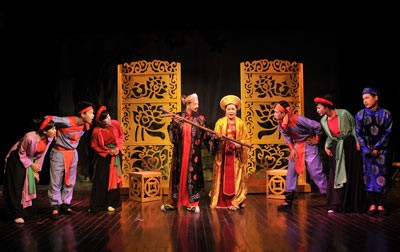 A scene from the drama titled Cai Lao Hoan Dong (Rejuvenation)
The play's director, Meritorious Artist Tuan Hai, Meritorious Artist and actress Le Ngoc were also voted as 'Most Favorite Actor and Actress'.
Guangzhou Research Institute of Folk Arts and Culture, Fang Ning highly appreciated the drama's stage decorations presenting a peaceful Vietnamese village, traditional clothing, music and artists' performing skills.
The China-ASEAN Theater Festival 2013 was held in the city of Nanning from August 28-September 2.
The event attracted 15 art troupes, including eight local groups and seven teams from neighboring countries such as Indonesia, Thailand, Singapore, Malaysia and Vietnam.