The film Dap canh giua khong trung (Flapping in the middle of nowhere) directed by Nguyen Hoang Diep has just been announced as Best Film of the Venice International Critics' Week awarded by FEDEORA - the federation of film critics from Europe and the Mediterranean on September 5.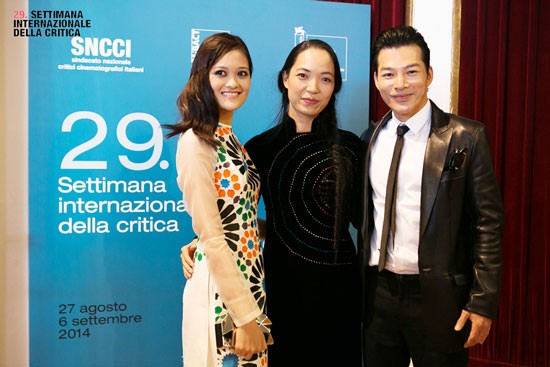 Actress Nguyen Thuy Anh, director Nguyen Hoang Diep (c) and actor Tran Bao Son attend the 71st annual Venice Film Festival
The film is a story about Huyen, a pregnant teenager. She urgently needs money for an abortion. Ironically, the only man that is willing to give it to her has a fetish for pregnant women.
Nguyen Hoang Diep graduated from, the Stage and Film University. She produced the short documentary series Changing Lives, as well as the two television shows Chit and Pi and The 10A8 Quartet, which have been a success with young audiences. Flapping in the Middle of Nowhere is her first feature film. Diep is also a producer of the VietnamnetTV channel.
The movie produced by VBlock Media, a local company, in coordination with its French, German, and Norway partners. It will make its debut screening to local audiences at the Hanoi International Film Festival, that is scheduled to take place in November 2014.
The Venice International Critics' Week of the 71st annual Venice Film Festival which took place in Venice, Italy between August 27 to September 6 received movies from France, Italia, China, Yugoslavia, Germany and Palestine.