Pham Ngoc Lan is a new face from the Vietnamese filmmaker community whose film is competing in the shorts category at the 66th Berlinale International Film Festival in Germany.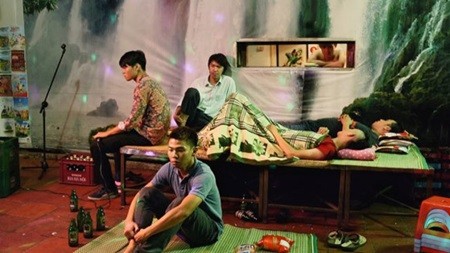 City slickers: A photo of Another City by Pham Ngoc Lan on the official website of Berlinale Shorts category. — Photo berlinale.de
Lan's film is among 25 films from 21 countries that are vying for the Golden and the Silver Bear at the festival, which will be held from February 11 to 22.
Entitled Another City, Lan's film tells the story of a group of office employees who are lonely city dwellers.
Each one's predicament is woven seamlessly together by a familiar Asian refrain, such as: a drenched middle-aged woman taking off her wig, gazing out of a glass window; a young man bursting into tears in a karaoke room surrounded by wallpaper depicting a tropical landscape; and a young woman trying to wipe a smear off the wedding dress she's wearing.
The 25-minute film features veteran actress Minh Chau and emerging actress Thuy Anh.
"My role is that of a young girl who is at the crossroads of her life. Finally, she decides to change it to have a better life," Thuy Anh said.
"I'm very happy that Another City has been selected for the Berlinale Shorts category. This is my second film that is competing at a major international film festival," she said.
Born in 1987, Hanoian Lan graduated in urban planning from the Ha Noi Architecture University. He engaged in filmmaking to capture the whimsicality of human life.
His interest lies in human relationships in urban settings, in which the cityscapes deeply affect people's consciousness.
His first film, entitled The Story of Ones (2011), was screened at numerous film festivals and art museums, including Visions du Reel (Switzerland), CPH-DOX (Denmark), New Cinema and Contemporary Art - Rencontres Internationales (France), and Tokyo Metropolitan Museum of Photography (Japan).
In 2012, he was invited to a Creators Residency Programme in Hokkaido, Japan.
Lan took one year to prepare for Another City, which was shot in 12 days in Ha Noi and the northern mountainous Cao Bang Province.
He received US$6,000 from the Danish Cultural Exchange and Development Fund for the filmmaking process.
Last year, the film Big Father, Small Father and Other Stories by Phan Dang Di became the first official Vietnamese film to compete in the Best Film category at the 65th Berlinale International Film Festival.