The film 'Trang noi day gieng' ('Moon at the bottom of the well') made VND1 billion (US$57,140) on its debut at oversea box-offices, it was announced Tuesday.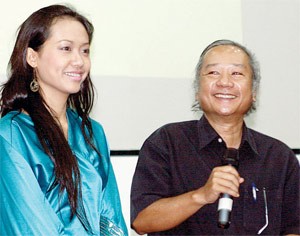 Hong Anh (L) and director Vinh Son at the debut of 'Trang noi day gieng' at Cinebox Ly Chien Thang Cinema Tuesday (Photo: SGGP)
The production company Giai Phong ('Liberty') decided to enter their film in the '2008 Golden Kite Awards' and have it screened in oversea cinemas, instead of presenting the film at local cinemas first.
After screenings in oversea cinemas, the film returned to Vietnam.
It will be first screened in Hue city where the film was set.
Later, the film will be on screen at some small cinemas in Ho Chi Minh City.
'Trang noi day gieng' is the tragic story of a teacher, Hanh, played by Hong Anh.
Hanh is a married woman who loves her husband, Luong - acted by Hoang Cao De, very much and always dreams of having a child with him. That dream never comes true.
In desperation Hanh decides to find another woman who can have a child with her husband. Her plan succeeds in only destroying her life and leaving only misery.
The film climaxes when Hanh recognizes the truth about her husband, he is feeble and obediently accepts commands from the woman hired to have a baby with Luong.
The movie, directed by Nguyen Vinh Son, was set in Hue city from the late 19th Century to the early 20th Century.
The film won the Silver Kite for best celluloid feature film at the 2008 Golden Kite awards and Hong Anh won the best actress for her role in the film at the Dubai International Film Festival 2008.
Related article:
'2008 Golden Kite Awards'