Vietnamese film "Choi voi" (Lonely) will compete for the Orizzonti Award at the Venice International Film Festival to be held from September 2 to 12.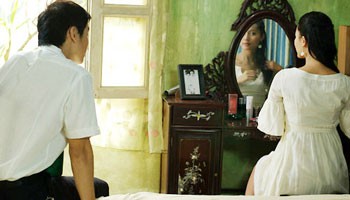 A scene in the film "Choi voi" (Lonely)
Directed by Bui Thac Chuyen and produced by Feature Film Studio 1, the film tells the story of newlyweds Hai and Duyen, the complicated love between Duyen and Cam, her close girlfriend, and the carnal passion between Duyen and Tho, a sexually attractive man.
"Lonely" dwells on moments in life when we feel unpleasant about ourselves without knowing why.
It features People's Artist Nhu Quynh, Hai Yen, Johnny Tri Nguyen, and Duy Khoa, who won the Promising Singer award at the 2008 Sao Mai – Diem Hen (Morning Star – Rendezvous) contest.
Vietnamese-French actress Pham Linh Dan will also play a role in the movie.
Ms.Pham was born in 1974 and moved to France with her family a year later. At 18 she began her acting career by playing Camille, the adopted child of a woman (Catherine Deneuve) in "Indochine."
She has also appeared in "The Gamblers," "Jamilla," and "The Beat That My Heart Skipped" and won the César Award from the Academy of French Arts and Movies in 2006.
"Lonely" will be screened nationwide at the end of the year and take part in film festivals in Toronto, Vancouver, and London.
Last year "Khi toi 20" (When I am 20), directed by Phan Dang Di who has written the script  for "Lonely," was invited to compete in the "Short film" section at the Venice festival.