Ao Lua Ha Dong (The White Silk Dress), a Phuoc Sang Film production, has been officially selected for pre-Oscar nomination screening in the category "Best Foreign Language Film of the Year" for the 80th Annual Academy Awards, 2008, announced the Viet Nam Cinema Department.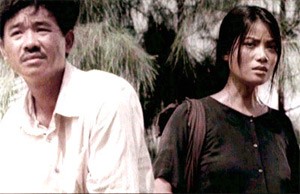 Actor Quoc Khanh (L) and actress Truong Ngoc Anh in a scene of the film Ao lua Ha Dong.
The Viet Nam Cinema Department is rushing to complete the formalities and get everything ready to send the film to the organizing board.

Nominations for the 2008 Oscars will be announced January 22, 2008 and the award presentation will take place at the Kodak Theater on February 24, 2008.

The film Ao Lua Ha Dong won the Kodak Vision Award at the International Fukuoka Film Festival (September 14th to the 24th) in Japan, gold awards in the best feature film category at Viet Nam's 2006 Canh Dieu Vang (Golden Kite) Award of the Viet Nam Cinema Association, and the Audience Award at the 11th Pusan International Film Festival in Korea last year.