The film "Hot boy noi loan va cau chuyen ve thang cuoi, co gai diem va con vit" (Lost in paradise) by director Vu Ngoc Dang will be Vietnam's entry at the 36th Toronto Film Festival from September 8-18.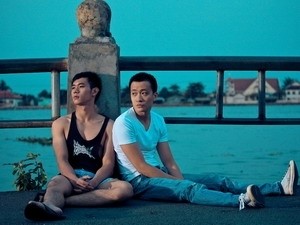 Actors Ho Vinh Khoa (L) and Luong Manh Hai in a scene of the film
"Lost in paradise", produced by BHD Viet Nam Media Corporation, will compete for the Discovery Section at the event.
Actors Luong Manh Hai and Ho Vinh Khoa will represent the film in Toronto in Canada during the film festival.
The film talks about the lives and loves of gay people and girl prostitutes. It will be screened at the Toronto Film Festival before its commercial release in Viet Nam later this year.
It is the first Vietnamese film to be purchased outright by Fortissimo Films, one of the world's leading distributors, from the original copyrights holder, for distribution in foreign countries.