Rung Den (Black Forest), directed by Vuong Duc, will be an Oscar entry next year for the foreign language film category.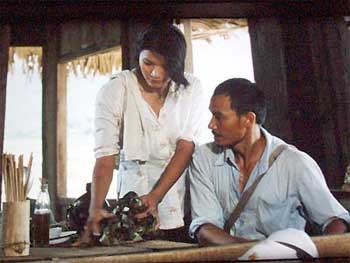 A scene in the film Black Forest
Making this announcement, the Viet Nam Feature Film Studio said the film would be screened several cinemas around the country for a week before the Viet Nam Cinema Association completes the required procedures.
Rung Den won a consolation prize at Viet Nam's 2007 Canh Dieu Vang (Golden Kite) Awards organized by the Viet Nam Cinema Association.
The film tells the story of woodcutters in a family that has to bear the fallout of harming the forest spirit as a result of the father cutting down an ancient tree.
The Oscar 2009 Awards Ceremony will be held at the Kodak Theatre in Los Angeles on February 22, 2009, one month after nominees are announced.