Movie Choi voi (Adrift) directed by Bui Thac Chuyen and produced by Feature Film Studio 1, won the Best Sound Effects award at the 2009 Asia-Pacific Film Festival in Kaohsiung City, Taiwan.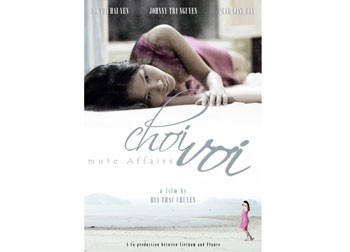 Poster of Adrift
The film earlier received the 16th Vietnamese Film Festival's Best Director award last week and the Fipresci International Critics' Prize at the 66th Venice Film Festival in September. It has also screened around the world at other international film fests in Toronto, Busan, London, Fukuoka and Bangkok.
This year the Vietnamese movie industry presented three films including Dung dot (Don't Burn), Trang noi day gieng (The Moon at the Bottom of the Well), and Choi voi at the 2009 Asia-Pacific Film Festival held from December 17-20.
Two documentaries, Bai ca tren dinh Ta Nung (A song on Ta Nung Mountain) and Loi nguyen cau (Prayer) were also screened, according to the Department of Movies of the Ministry of Culture, Sports and Tourism.
The 53rd Asia Pacific Film Festival showcased 58 films in total from 14 member nations and regions.
Highlights of the awards included Indonesian movie "The Rainbow Troops" winning Best Film; Taiwan's Leon Dai winning Best Director for "No Peudo Vivir Sin Ti"; Hong Kong's Nick Cheung winning Best Actor for "The Beast Stalker;" Taiwan's Sandrine Pinna winning Best Actress for "Yang Yang;" Hong Kong film "Accident" winning Best Screenplay; Taiwan's "Baseball Boys" winning Best Documentary; and Thailand's "Story of the Noble Warrior" winning Best Animation.
In addition, world-renowned filmmaker John Woo of Hong Kong received a lifetime achievement award.

Related article:
Three local films to screen at Asia-Pacific film fest