A Vietnamese film, "Choi voi" (Lonely), by director Bui Thac Chuyen has won the Fipresci International Critics Prize at the 66th Venice Film Festival.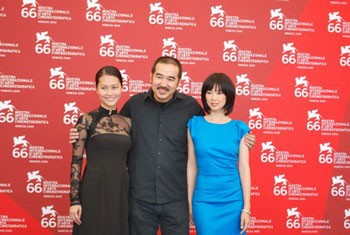 Director Bui Thac Chuyen, actresses Hai Yen (L) and Pham Linh Dan (R) attend the Venice Film Festival.
The official screening of the film at the festival attracted more than 1,500 people, said a member of the Vietnamese delegation.
Attending the film festival were director Bui Thac Chuyen, actresses Hai Yen and Pham Linh Dan, officials from the Department of Movies and producers from home and abroad.
Film critic Ngo Phuong Lan said that the Fipresci Prize has been one of the most honorable awards from critics for more than 50 years.
Choi voi will travel around the world to participate at other international film fests in Toronto, Busan, London, Fukuoka and Bangkok before screening in Vietnam, said Bich Phuong, director of BHD, a leading TV-movie production and distribution company in Vietnam and the film's national and international distributor.
Vietnamese film-lovers can enjoy "Choi voi" (Lonely) after the Tet holidays 2010.
Top prizes at the Venice Film Festival 2009 were:
Golden Lion for Best Film: Lebanon by Samuel Maoz (Israel)
Silver Lion for Best Director: Shirin Neshat (Iran) for Zanan Bedone Mardan (Women Without Men).
Special Jury Prize: Soul Kitchen by Fatih Akin (Germany)
Coppa Volpi for Best Actor: Colin Firth (UK) in A Single Man by Tom Ford (US)
Coppa Volpi for Best Actress: Ksenia Rappoport (Russia) in La doppia ora by Giuseppe Capotondi (Italy).

Related article:
Vietnamese film to compete in Venice Film Festival