Students of Amsterdam Junior High School in Hanoi were presented with the 'Best Asia Pacific Script Award' of Kids Witness News at a prize-giving ceremony in Hanoi on December 18, held by Panasonic Company.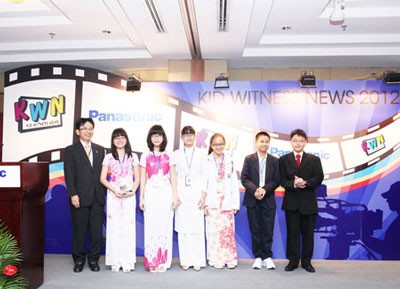 Vietnamese student team at the prize-giving ceremony (Photo: SGGP)
Stressing the importance of exchange between persons, the Vietnamese film 'New Message' depicts modern days excess dependence on digital and mobile technology using characters who would rather SMS each other than talk in person.
The film tells the story of a group of people, such as students and teachers, lovers, and a mother and son, who use mobile phones to communicate with each other rather than the traditional oral mode of communication.
The film presents its theme in a fun and natural way, delivering a clear message that if people totally depend on information technology then they will become less sociable.
The New Zealand film 'Forever Emily' was awarded the 'Best Film Title'. The film tells the story of a girl at an awkward age who overcomes the sorrow of losing her best friend and finding solace in talking to her dead friend by writing her thoughts daily to the friend.
Other prizes were given to films from Malaysia, Singapore, Thailand, Indonesia and India. The Malaysian team with 'Paper Chase' won the creative idea award; Singapore film 'Loss in Translation' won excellent editing award; Thailand film 'Status' captured the most eventful award; the propaganda award went to the Indonesian film 'Paragames Athletes Speak of Nationalism' and the best film for an environment award went to Indian film 'Wake up Call'. All seven winning films were screened at the awards ceremony in Hanoi on December 18.
The event offered children the opportunity to experience   professional film-making process and prompted reflection on important environmental and social issues. Junior high school students expressed their thoughts and aspirations through films.
The Kids Witness News was initiated in the US in 1989 and regional and global competitions followed thereafter. The program aims at training students of primary and junior high schools to make films.
This year's main themes are communication and environment and the organizer received more than 1,900 scripts written by regional primary and junior high school students.