The 51st Asia-Pacific Film Festival drew to a close on Friday evening in Taipei with three prizes for Viet Nam's films.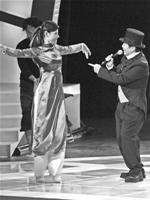 Viet Nam's ao dai on the stage of the 51st Asia-Pacific Film Festival in Taipei on Nov 24

Chuyen cua Pao (Story of Pao), received the jury's special award for a feature film, Con lai voi thoi gian (Lasting with Time) was honored the Best Documentary Film and Song trong so hai (Living in Fear) won the Best Art Director prize.

The success of Con lai voi thoi gian, a documentary film about the letters, diaries and relics of Viet Nam's war martyrs, who went on a fighting journey from the north to the south, has prove the strength of Vietnamese films in this respect in the regional film festivals.

Chuyen cua Pao is said to have a daring and unusual viewpoint, but very humane.

The three films deserved such recognition, and also proved the position of Vietnamese cinema in the Asia-Pacific Film Festival.