Every time a Vietnamese film has visited a festival abroad, the local movie-lovers highly anticipate a place amongst award recipients. In fact, audiences worldwide remain quite disappointed in the actual recognition the films have received.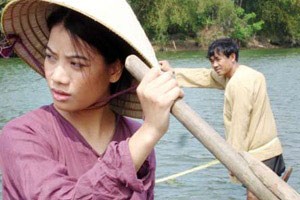 Actress Truong Ngoc Anh in the Ao Lua Ha Dong ("Ha Dong Silk Dress") Film
This year, Vietnamese films have brought back a few noteworthy prizes, but most of them are minor prizes from small-scale film festivals that have yet to accurately meet or represent the local movie-lovers' expectations.
Of the many acclaimed films, Hat Mua Roi Bao Lau ("Bride of Silence") directed by Doan Minh Phuong and Doan Thanh Nghia won "Best ASEAN Film" at the 2006 Bangkok International Film Festival. Another, Song Trong So Hai ("Living in Fear") by director Bui Thac Chuyen, won the Asian New Talent prize at Shanghai's 9th International Film Festival and Ao Lua Ha Dong ("Ha Dong silk dress") directed by Luu Huynh received the Audience Award in the Korea at the 11th Annual Pusan International Film Festival.

Though Vietnamese films have received some praise from these showings, there are not even any representatives at the prestigious film competitions like Cannes, Venice or the Oscars. Moreover, the films were primarily directed by elderly Vietnamese living abroad.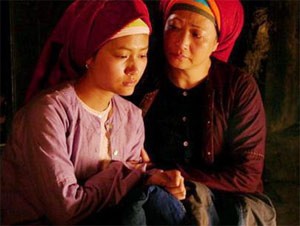 Actresses Hai Yen (L) and Nhu Quynh (R) in Chuyen cua Pao ("Pao's story")
Chuyen Cua Pao ("Pao's story"), directed by Quang Hai, won four Golden Kites at Viet Nam's national film festival in 2005 and was received at the international festivals, yet received no critical accolades.
There were only a small number of Vietnamese films sent to the international festivals within the first ten months of 2006, but there was still little background information provided for audiences.

Is the problem in Vietnamese cinema that these films are not interesting or is our advertising too weak to attract attention of the public, the critics and the media?
When it comes to recognition, the Vietnamese films manage to hold a little water internationally. But, if Viet Nam continues taking solace in those minor prizes, the prizes of the most honorable film festivals like Cannes or Venice will remain eternal dreams. So, when might we see the golden era of Vietnamese film in the international movie market?